07-15-2019, 06:59 AM (This post was last modified: 07-15-2019, 07:01 AM by Defaltlk. Edited 2 times in total.)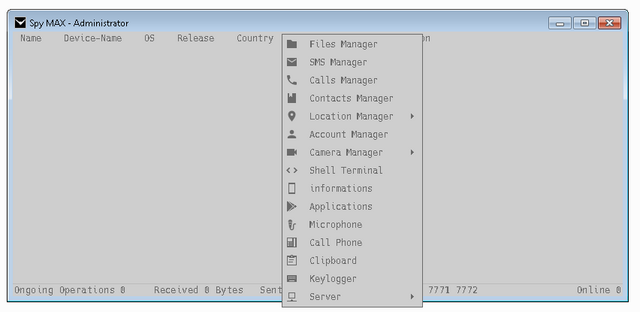 Download Spy MAX v1.0, an advanced Android remote administration tool.
Spy MAX is a remote administration tools allows a user to control the system with a Graphical User Interface (GUI). It is capable of taking complete control of victim's machine. It has many features which allows a user to access remote computer as an administrator. Download Spy MAX v1.0 free of cost.
Requirements
Java
NET Framework 4.5
Android Versions Compatibility
9.0 – Pie
8.0 – Oreo
7.0 – Nogue
6.0 – Marshmallow
Features
Multi-port
Size 18.5 KB / Clean
Encode with an insertion point
Run more than one patch on one phone
Secure data sent and received over the network
Ability to control program settings
And other features
[To see links please login or register here]